Mr. Ravinder Singh Hura, the Director of Columbia Global School holds a bachelors degree in Engineering from SRM University, Chennai with specialisation in Electronics & Communication. He has worked with Gofrugal Technologies, Chennai & Fleming Gulf, Bengaluru before joining as director. Having studied at Holy Cross, Kapa in Raipur he is well aware of the education scenario prevalent today. He has been striving hard to make the dream of fun and activity based learning come true by intensive research and study of the education sector and along with The Jan Pragati Education Society, wants the students of Columbia Global School to gain global exposure.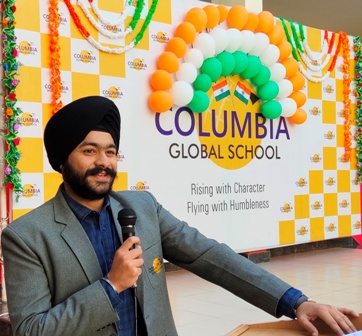 Director's Message
Education is the basis of all progress and that progress is only possible, if men and women are equally well-educated. Imparting education does not just mean only passing on bookish knowledge. Real education should inculcate humanitarian values like wisdom, courage, humility, compassion, empathy and reliability in a child.
We at Columbia Global School, just like you, believe in holistic education for your child, encompassing – academics, co-curricular activities, sports and life-skills learning. Our endeavour is to strike the perfect balance between the teacher & the taught, with a globally acceptable education system.
Columbia Global School is an amalgamation of competent teachers, state-of-the-art infrastructure and an experienced and efficient administration. The school came into existence with the vision of creating a safe and supportive environment for its students – to provide a perfect balance of academics, sports, artistic and social opportunities.
Childhood, youth and learning should be fun and we strive to encourage our students to learn about themselves and their constantly changing environment, while at the same time offering support and guidance as they practice thinking, emotional and social skills. We want our students to be filled with self confidence and motivation to take up any challenge that may come their way.
The school ensures student's emotional growth along with intellectual excellence. This empowers them to develop their self-esteem, self-awareness and self-confidence. Sharing ideas, analyzing situations and expressing them confidently are essential skills which are honed here, through Experiential Learning.
While studying at the school, the students will be groomed to become confident, articulate and enlightened young citizen, ready to step into a global society with dignity, honour and integrity. We want each student to be creatively curious and strive to experiment and innovate new things on both the academic and non-academic fronts.
Today's India is an empowered, enlightened and enterprising nation. We wish to make it even more powerful with conscientious, smart and confident citizens who would make us proud of their multifaceted growth.